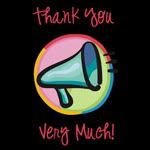 I am now obsessed with this "Thank You Very Much" blog post thingy. It is just so great!! You should join in.
Go here.
Thank you very much...
1. southern weather for being above 90 nearly every day this week and basically killing all of my plants. I
love
that.
2. my dear husband and myself, who keeps everything in the universe. I love packing and unpacking
CRAP
we never use every single time we move... which, for the record, has been at least once a year for the last 6 years.
3. wonderful neighbors. I don't understand why you feel the
need
to open
my mailbox
and leave it open. It is not yours. It does not
belong
to you. There is
nothing
in there for you. Why, may I ask, are you even
touching
my mailbox????
Ok, short and sweet this week...
and on a serious note- Thank you, Mom and Michael, for the things for my new classroom!!