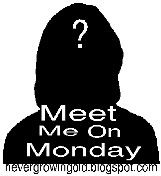 Click the button above to join in!!
Questions:
1. How many brother and sisters do you have?
I have 2 step-sisters. No "real" siblings. lol They count though! :)
2. What is your favorite thing to do?
Cuddle with the MilShelb!
3. What countries have you visited?
France, England, Spain, Mexico
4. Are you a morning or a night person?
Neither. I am a good mid-day person. lol When I have my choice I wake up late and go to bed early! lol I function better as a morning person if I have to pick one.
5. What's your favorite cereal?
Well, I only eat cereal dry and I really don't care for it too terribly much because of that- but LIFE is probably my favorite because it is also good without milk.