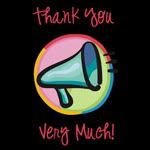 Thank you very much:
-stupid people who rent out houses. If I say I have dogs and need a fence I do NOT mean I would take a house without a fence. Stop sending me to houses with NO FENCE! Duh!!!!
- stupid dog food that is making my sweet Shelby sick. I love cleaning diarrhea off of my floor. Wonderful.
-stupid town we are moving to for not having available rentals at a price I can afford. Why in God's name would someone pay $1800 for a house to RENT?! Um, no. No thank you.
-wonderful landlord that I currently have. I love having fallen trees lay in my yard for weeks. Don't get mad when the grass is super long and crappy looking. We can't get to the grass to cut it!
-people who won't return phone calls and give me straight answers. May not seem like a big deal to you- but it's messing up my plans!
-dishonest people on Craigslist who list houses for rent. You are wasting my TIME!! I need to find a house and NO I will not be sending the money to AFRICA because you are a "missionary"! I was not born yesterday "Mr. Scammer".
-days that fly by when I need them to slow down. I am running out of time. I have to move by the end of the month and still haven't found a house to live in!!! AHHHHHH!!
- people who keep telling me I have plenty of time. No. No I don't. I have to move, set up a house, and set up a classroom all within the next 3ish weeks. Not easy. There is NOT plenty of time!